Calahan West Fox Lake shoreline restoration project Crow Wing County You Tube presention by Heather

SUNSHINE GARDENS NURSERY & LANDSCAPING

most plants are outdoors in a 2 acre park-like setting includes 3 greenhouses & Tree & Shrub nursery

OUR CREW IS PREPARED TO SERVE YOU!
A FULL SERVICE LANDSCAPING COMPANY!
Serving: Pine River, Backus, Aitkin, Pequot Lakes, Crosslake, Ideal Twp.,&nbsp Longville, Walker, Fifty Lakes, Outing, Nisswa, Brainerd, & Grand Rapids
Buffer garden planting @ residence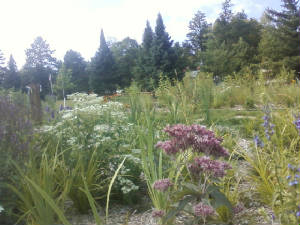 On Lower Hay Lake, Whitefish Chain
signs are available for your project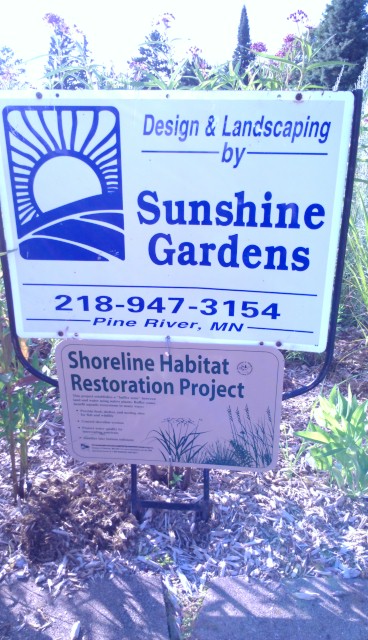 to show the public what you're doing for your lake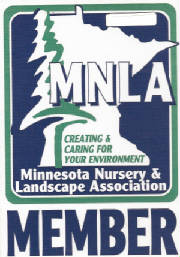 Largest Nursery in Cass County! Dedicated to growing for you the finest Neonicitinoid-free Annuals,Herbs Perennials, Shrubs, Trees,Hanging Baskets,
& MN Native plants.
Come and see our beautiful display gardens. Shop in our park-like setting where birds and butterflies abound. We are worth the drive! Chic plants for Hip Gardeners in our large nursery & greenhouses.


2000 MILES FRESHER from home gardens!
WHERE WARMTH AND PERSONAL SERVICE PREVAILS
Landscape Designer:

Bonnie has a degree in Horticulture from the University of Minnesota and has over 20 years of experience working for nurseries,greenhouses and landscape firms. Sunshine Gardens Nursery & Landscaping, Inc. began operation in 1997.


Bonnie has studied gardens & shorelines all over the world and the state of MN to bring back their beauty to her designs for your own garden of Eden.

WE ARE WITH YOU FROM DESIGN
TO PLANTING AND MAINTENANCE,MOWING
Services Provided:
Consulting, Landscape Designs,Shoreland Plans, Planting, Installations, Lawn mowing, & Garden maintenance, pruning, weeding
@ BonnieThePlantL on twitter

WILD BERGAMOT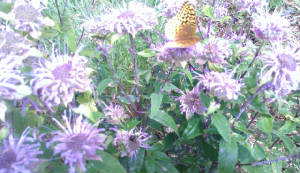 ATTRACTS BUTTERFLIES
BLUEVERVAIN HOLDS SHORE IS PRETTY TOO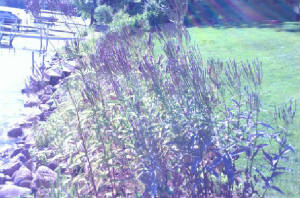 5' wide Buffer STRIPatrcts pollenators 12or wider preferred
CROSSLAKE NATURAL SHORE FOR SONGBIRDS
HUMMINGBIRDS AND NEIGHBORHOOD JOY!
YELLOW SWALLOWTAIL BUTTERFLY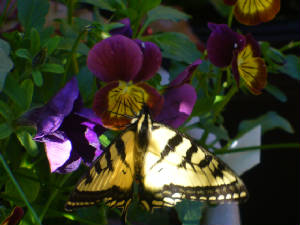 IN ONE OF OUR DISPLAY GARDENS
RAINGARDEN PROJECT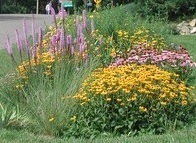 Zone 3 plants for Resilliant Gardeners!
1286 Shadywood
Shores Drive NW
PineRiver, MN 56474
218-947-3154
LOCATION: Take Hwy #84 -12.5 miles North of Pine River or S of Longville, rt on Hand Lake Road(County Road #49) & follow signs.
Click on directions/map link for map to Sunshine Gardens .
Open daily 9 Am To 5:30 Pm May-September
We are open by appointment otherwise.
We Specialize in Hardy plantings for resilliant gardens.
GREAT DAY UNDER THE SUN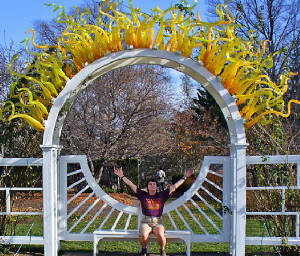 BONNIE @MoBotanicalGarden St Louis
https://www.instagram.com/bonniehiniker/
https://www.pinterest.com/sgardens/
Northland Plants attractive to butterflies

Bees and other Pollinators
Tom working on Lake Ossie Raingarden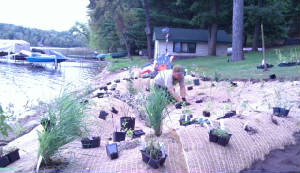 Processing run-off through plant roots detoxifies it
fruit trees benefit
From wood ashes and bonemeal better than blue fertilizers!

Gift Cards are Available!

Pollinator friendly MN Native perennials for bee lawns, lawns to legumes grant $350 reimbursement receipts

CHEKERSPOTBUTTERFLY

NO NEONICS ATTRACT BUTTERFLIES