https://www.google.com/maps/place/1286+Shadywood+Shores+Dr/@46.8533517,-94.309194,1702m/data=!3m1!1e3!4m2!3m1!1s0x52b723b27f2db40d:0xf1e14c07c199eccf
Both of us grew up in the country and love to create peaceful gardens to enjoy with butterflies, songbirds,children,pets, hummingbirds. After Bonnie obtained a degree in Horticulture from the University of MN and worked for other Greenhouses, Garden Centers and Landscapers for 20 years, She and Terry decided to start their own landscape design and installation business at the site of their home accross from Hand Lake at the top of the Pine River Watershed in beautiful Cass County.
We most recently began using the 1999 Restore Your Shore CD now free on the DNR website to demonstrate how native plant choices can best be used on your shoreland project or difficult site. Come and Grow With us! We will use our extensive knowledge of the plants that grow in Minnesota to plan and install your low-maintenance landscape designed with all seasons of interest in mind for People, Birds and Butterflies.
BONNIE AND TERRY STANDING IN PEACE GARDEN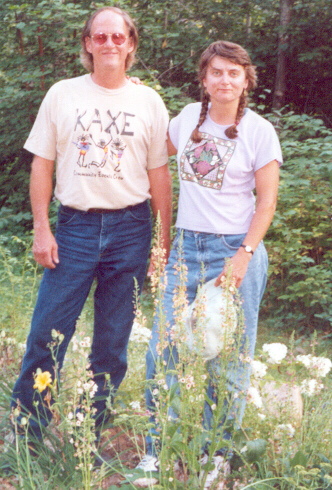 WE STARTEDSUNSHINE GARDENS IN 1997
We are in USDA growing zone 3
Where only the toughest plants survive! Please do not purchase plants for zones higher than #3 and expect them to survive our winters.
Bonnie and Terry and their Landscape crew
will use their expertise to design
and install low-maintenance landscapes featuring
a diversity of plants with interest for all seasons of
the year.